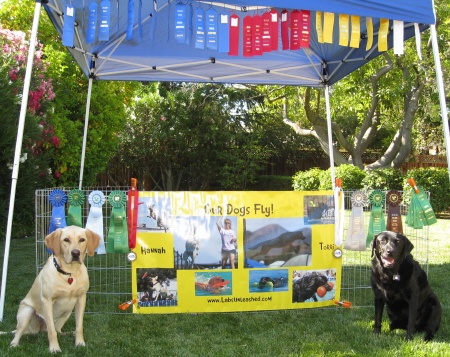 2009 Competitions
November: Capitola Fundraiser
August: Monterey and Sacramento Fairs
July: Solano County Fair
June: San Joaquin County Fair
May:Auburn Animal Rescue Fundraiser/Memorial
May: San Jose Flea Market
April: Pet Expo in Southern CA
January: Sportsmen's Expos in Northern CA

2008 Competitions
November: Championships in Scottsdale, AZ
October: Having fun in Bakersfield, CA
August: Getting started in Prunedale, CA

Special thanks to the photographers whose pictures are shown here including Marty (Photography by M), Jim Bagby, Bruce Beals, Howie (MaxDog Photos) Ted and Kayla Meyers, and other SplashDog friends.

November 1, 2009 "Coats for Kids" Halloween Splash (Capitola)
Capitola was the last stop of the season and it was a fun charity event complete with costumes on Saturday (we were busy with other doggie activities). Now recovered from the Monterey injury, Hannah's jumps showed she had clearly lost her "mojo" seen at the beginning of the year with regular >20' jumps. She still loves to jump after the toy into the water, but isn't reaching for it as she had been. Oh well -- we've met great friends in Splash Dogs and had a fun year, though it's more fun to see the big jumps.
We were thrillled to see Torri want to jump again -- she even qualified for her first finals! Both Torri and Hannah brought home orange and black Halloween-themed ribbons from the competition along with our memories and photos. We even got a 2010 Splash Dogs calendar where Hannah is the cover girl ;)




See complete list of Capitola results.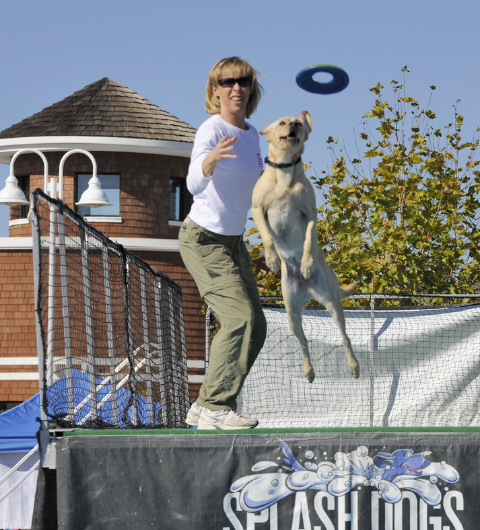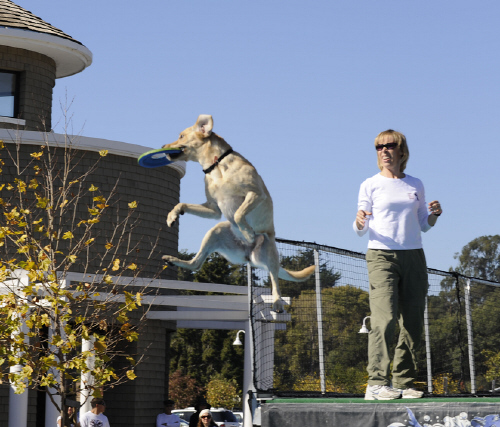 August 15-16 and 23rd, 2009 Monterey County Fair and California State Fair (Sacramento)
It was a beautiful weekend in Monterey. Hannah was flying high with some practice jumps shown in the photos and then slipped on the dock according to people who were watching. Her competition jumps were much shorter than usual with Hannah hesitating and carefully watching the dock. One of the veteran dock divers suggested we take Hannah to the chiropractor who hopefully helped to put Hannah back in alignment this week. The good news for our weekend was we hit our 1/4 mile frequent flyer award AND the first leg to a Junior title (didn't think that would be our next one after Senior and Pro)! Another fun part of this weekend's competition is that we took our current foster dog, Lady, with us to meet prospective owners and try out the pool. Lady is very toy motivated and loves the water, so took the plunge off the dock after a couple of attempts. The SplashDogs group is so great at promoting rescued dog adoption so we met several interested families. Lady (now Gracie) was adopted a week later and is happily living in Carmel near dog beach with her wonderful forever family. The following weekend we went to Sacramento with the approval of the vet who cautioned that Hannah probably wouldn't be 100% yet, but we still had fun with a few jumps.




See complete list of Monterey and Sacramento results.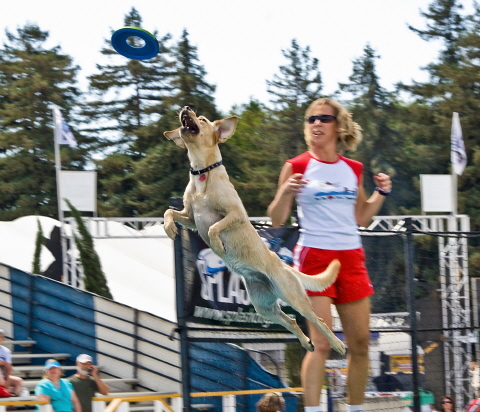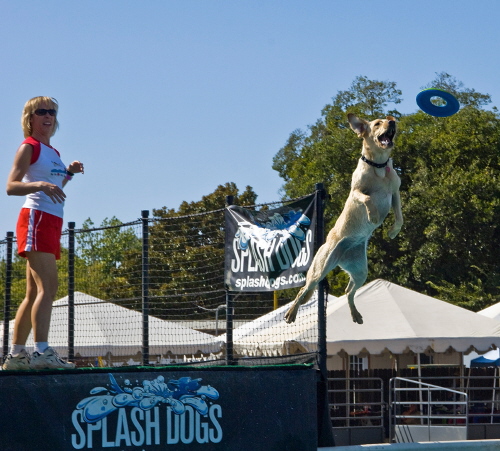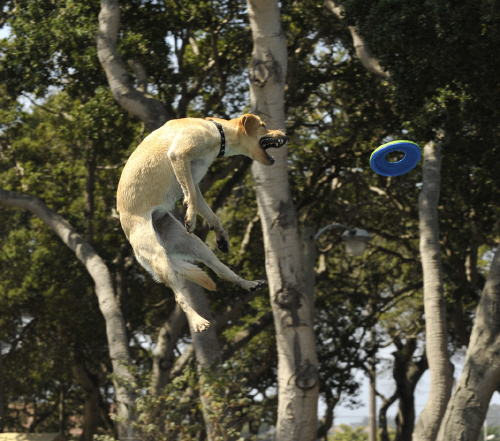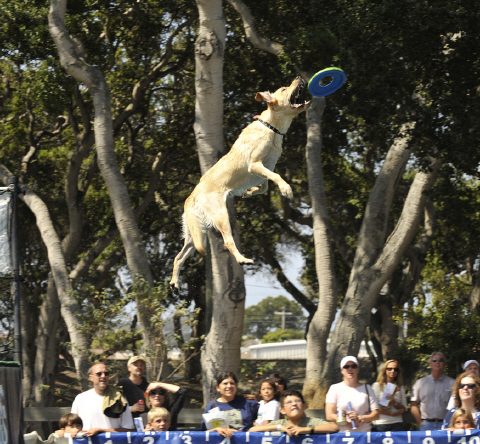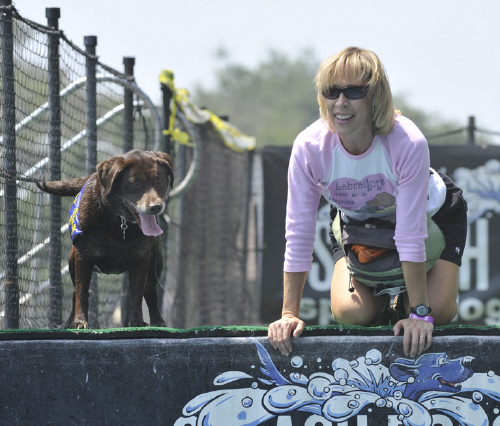 July 24, 2009 Solano County Fair, Vallejo, CA
Little Hannah Banana turned 2 years old yesterday so we celebrated with dock diving fun and birthday cookies with our SplashDog friends. I also decided to try a modified chase technique replacing the typical bumper with a frisbee which is Hannah's favorite toy on land. We simulated the dock jump at home and were pleased that her first competition score with the new technique was 19'11". Hannah caught many of my short-toss throws so she seemed to like the change -- we'll practice further and try it again at our next event. Hannah qualified for the top 12 Pro Finals but we hit horrible traffic returning on Sunday so were very dissappointed to miss the Finals competition.




See complete list of Vallejo results.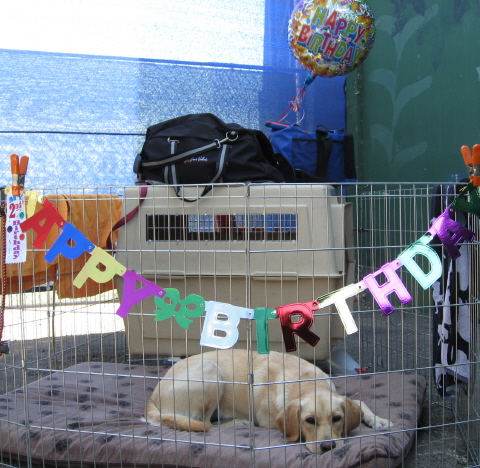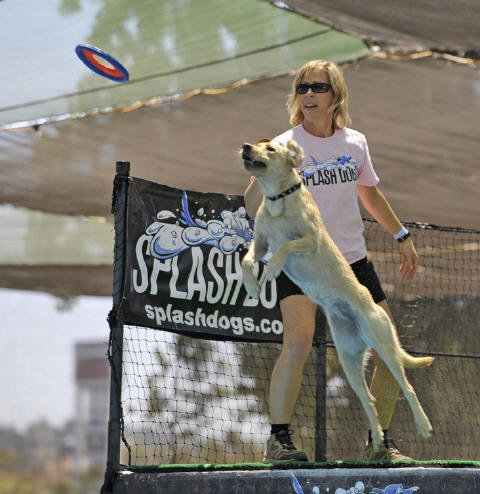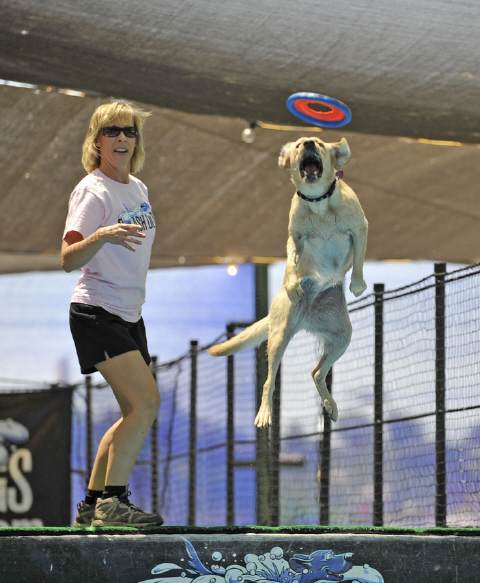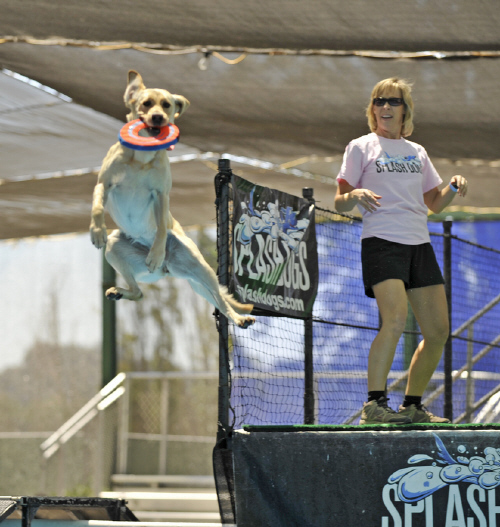 June 26-28, 2009 San Joaquin County Fair, Stockton, CA
It was another hot hot hot dock diving event with highs reaching to 105 degrees! It's always fun and we got lots of jumping in with fewer dogs at this event. Hannah and I are still struggling with inconsistency where she jumps her highest and lowest competition distances to date. Many of her jumps were very short where she barely looked at her toy and just went straight into the water where she knew she'd be able to swim to the toy. Some of her practice jumps were great plus one competition jump where she hit a new personal best of 21'5" -- hooray! That was the highlight and what we'll remember about the Stockton event. So back to more practice to hopefully get my throws and timing down so Hannah more consistently reaches for the toy as seen in some of the great photos below.




See complete list of Stockton results.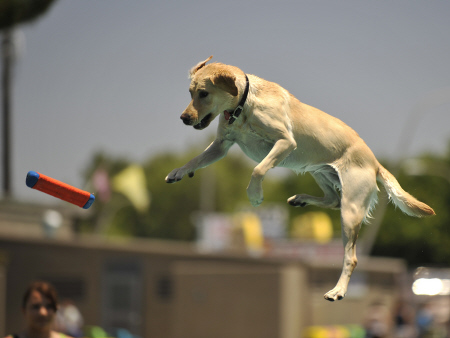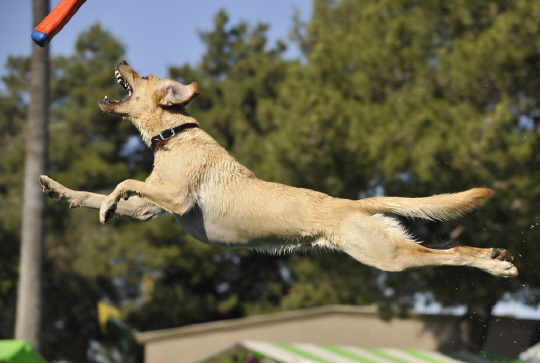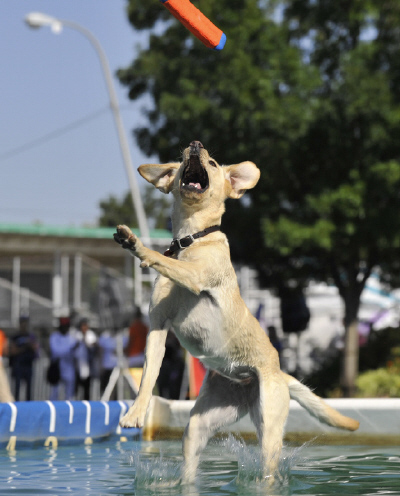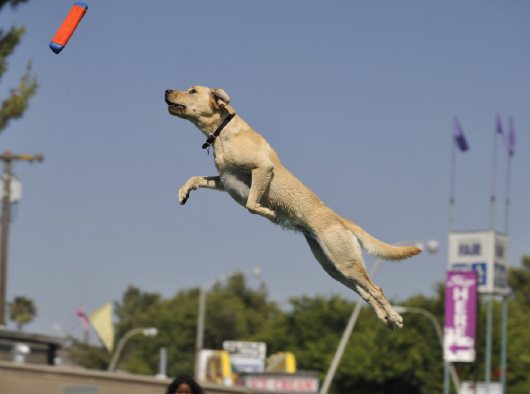 May 15-17, 2009 Fundraiser/Memorial, Auburn, CA
It was a hot 100 degree weekend in Auburn but fortunately cool in the pool for the pups. This annual event is a memorial fundraiser for a local animal rescue so it was great to have the proceeds go to a good cause. The Auburn park location was beautiful and quite a contrast to the asphalt jungle of the Flea Market the week before! In between jumps, Hannah got to enjoy the lupine-lined hiking trails.

Hannah jumped mostly in the high teens and fortunately saved her best jump for the Pro Finals with a near-her-best score of 20'7". So I was very pleased with our 8th place finish out of about 90 dogs and behind a lot of big jumpers. It was good to see Labs well represented in the Finals with 6 Labs in the 12 Pro dogs. The Borders, PitBulls, and Chesapeakes dominated the top spots again.






See complete list of Auburn results.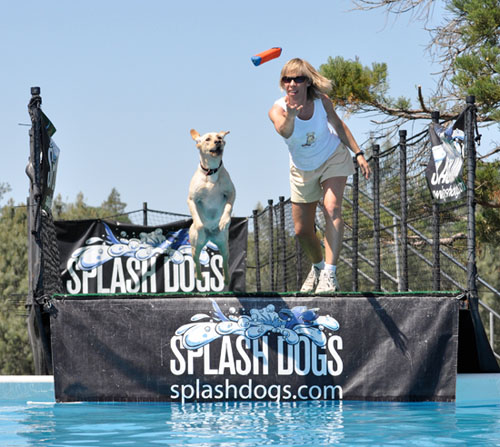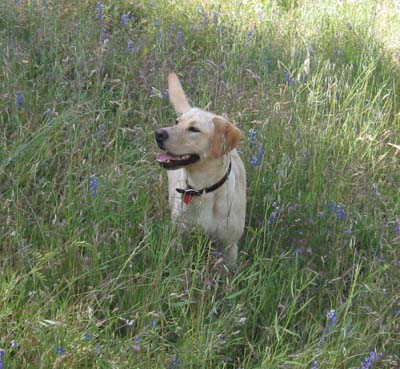 May 9-10, 2009 Flea Market, San Jose, CA
It was a bit odd of a venue crammed in between vendor stalls, but since it was only 15 minutes from our house, we went to both days of the San Jose dock diving event.

Hannah broke out of her high-teen slump and hit a couple of 20's along with a 21'2" jump (just an inch short of her personal best) so I was thrilled with her performance. The 21'2" was in the Finals which placed her as the top Lab for the weekend and 6th overall for the third time this year for Pro Finals (our third green Finals ribbon!). The top 6 dogs all jumped over 21' so it was another competitive group led again by Borders, Pit Bulls, and a special flat coated retriever.

Torri participated in the Saturday jumps but is hesitating more often about the 2' drop off the dock (she still loves to swim) so we'll give her a break and try her again if there is a venue where people don't crowd the pool. Ironically, her final 2' plop earned her a blue ribbon since she was the only dog in the <10' distance. Our ribbon collection has gotten quite large so we took a photo while we decide what to do with them.




See complete list of San Jose results.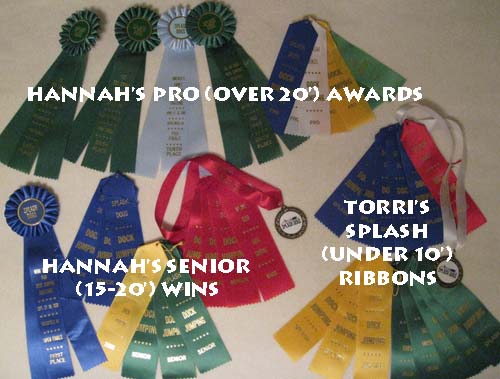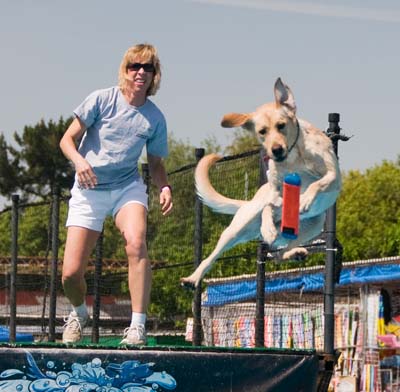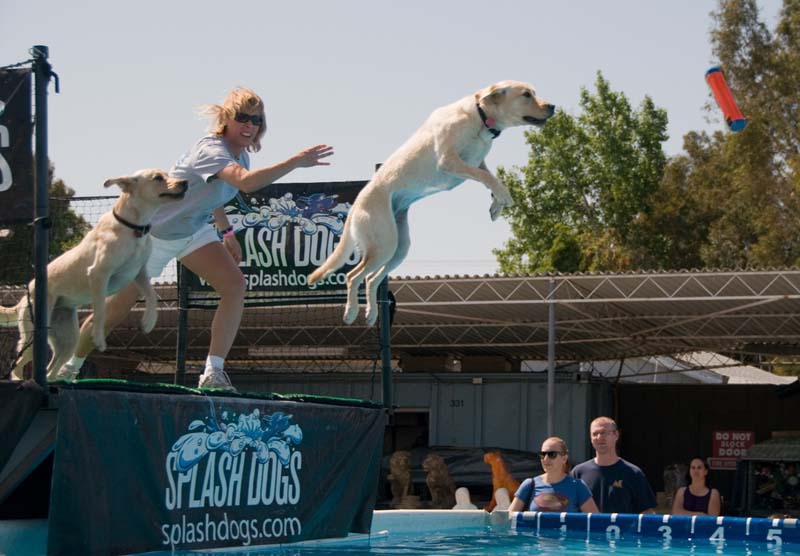 April 18-19, 2009 Pet Expo, Costa Mesa, CA
We headed south for a weekend of very warm weather at the huge Pet Expo event and were thrilled to have both the Harrell and Jeffries families come out to cheer us on. It was a great time visiting with family in between our dock jumps including a big group dinner. The Pet Expo itself was very interesting with demos from agility, police dogs, and the like, and lots of shopping for pet lovers.

Hannah jumped consistently in the high teens but didn't hit any 20's which was unusual since she's been regularly getting some >20' jumps since her 2nd competition. The high teen jumps gave her a Senior Bronze title (10 competition jumps) to add to her collection along with her "1/8 mile (660 ft)" Frequent Flyer award for competition jumps. With the many dogs competing this weekend, Hannah tied for 12th-13th in the qualifying waves raising a question of which dog would compete in the finals for Pro (top 1-12) vs Open (next 13-24). The SplashDog tie-breaker rules need to be improved (the "13th" place dog consistently jumped better than Hannah this weekend), but Hannah was unfortunately slotted in the Pro's so finished 10th in the Pros, instead of what would have been 2nd place in the Opens (top 3 places in each division earn a prize). Oh well - we still had fun!

Torri turned 10 the week after the competition so was again one of the oldest dogs competing. One person asked Troy how old Torri was, and when he said "10", they replied with a questioning "10 months?"! She still looks and acts like a young dog and jumped well during warm-ups. We think the very large crowd around the pool might have intimidated her during competition jumps since Torri did her "stop then splash" hesitation on the dock, but she's still determined to retrieve the toy from the water. Torri and Cyndi accomplished their 10th competition jump together so earned their Splash Bronze title at the event.




See complete list of Costa Mesa results.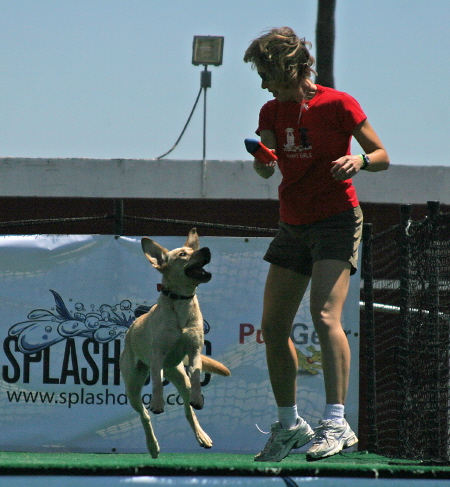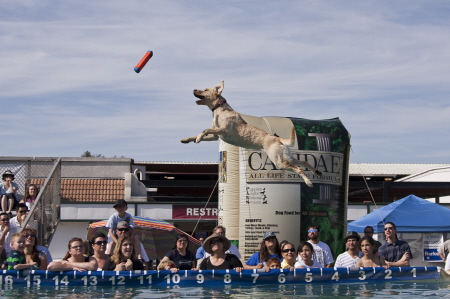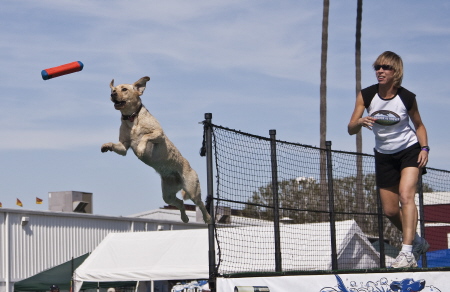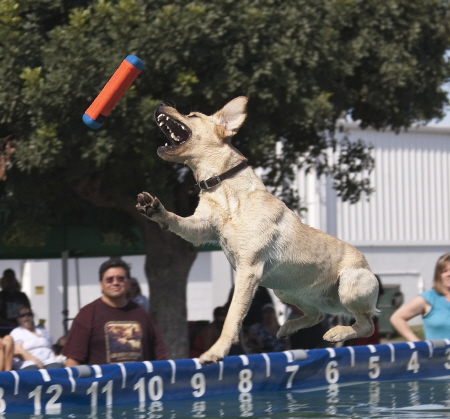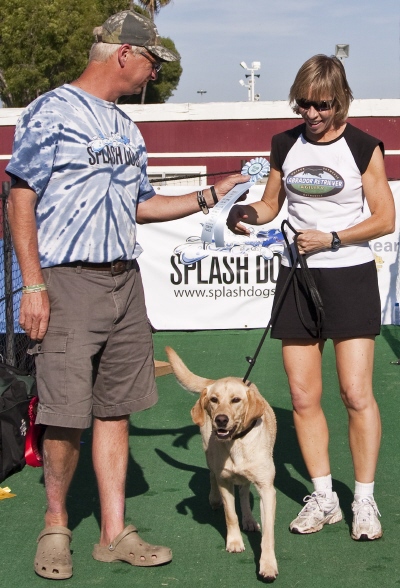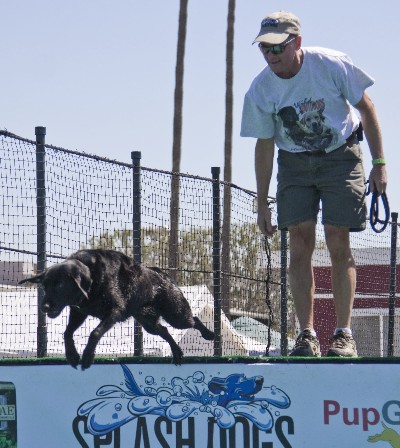 Jan 8-11 and 18, 2009 International Sportsmen's Exposition, San Mateo and Sacramento, CA
With the mild winter weather in the high 60's, we decided to compete in both of the Northern California Sportsmen's Expos weekends. We were thrilled to have some friends and family to come cheer us on and see what these dock diving competitions are all about. Our current foster dog, Cocoa, attended the event as well and met many prospective families interested in adopting her. The SplashDogs folks are great at helping support foster efforts, and it was fun to continue to get to know more SplashDogs teams!

Hannah continued to increase her distances and hit enough jumps >20' to earn her Pro (5) and Pro Bronze (10) Titles! I changed her starting point on the dock so we had some surprising 16-17' jumps where she left the dock early by 4-5', but Hannah had 2 other jumps at a new personal best of 21'3". During the 2 weekends, Hannah made 16 competitive jumps and was ranked with the big jumpers where she won 6th place in both the San Mateo and Sacramento Pro Finals out of 75-85 dogs each weekend!

Torri competed in a few waves in San Mateo but didn't seem to like the cold water so we didn't push her to do as many competition waves as Hannah. Torri collected 3 more ribbons in her <10' division which is pretty darn good for an almost 10 year old dog!




See complete list of San Mateo results and Sacramento results.