2009 Competitions
2008 Competitions
Championships in Scottsdale, AZ
Having fun in Bakersfield, CA
Getting started in Prunedale, CA
11/2/08 2008 Splash Dogs Cynosport® World Dock Jumping Championships Results, Scottsdale, AZ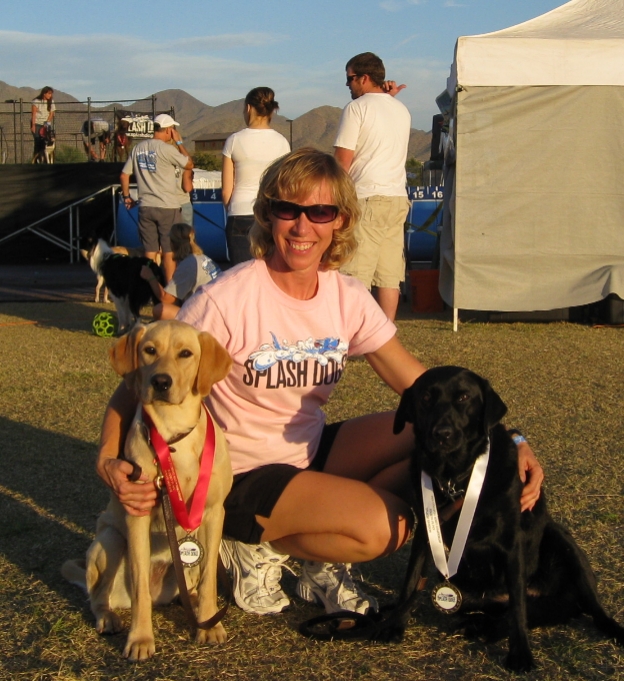 We made the 22 hour (plus stops!) round trip drive to Arizona to compete in this amazing dog sports event. In between our jumps, we walked around to the competitions for agility, flyball, disc dogs, musical freestyle, and demos in herding and a fun lure course! Both girls made us so proud of their efforts, and the wonderful camaradie and supportive sportsmanship among the SplashDog people made us glad we made the trip! The only downside of the trip was Torri's and Hannah's first encounter with cactus -- they definitely didn't like it and decided to stay close to us on desert hikes.

Hannah had qualified in 2008 with 5 competition scores at the "Senior" distance (15'-19'11") which had the largest number of competitors at 27 dogs. She led the pack in the semi-finals with jumps of 20'6" and 21'1" jumping way beyond the Senior distance! Hannah was consistent in the finals with great jumps of 20'7" and 20'6", but another dog came from behind and snagged first place from her (Hannah's jumps averaged 20'7" compared to the winner's 18'10" average, but it's all about having the furthest jump in the finals). So Hannah ended up with 2nd Place Seniors at the 2008 Championships which included prize money making her a professional athlete!

We had mostly brought Torri along for the ride since she had been hesitant to jump after her slip-and-fall in Bakersfield. Torri qualified for the "Splash" division (< 10') and surprised us by wanting to play the run, jump, retrieve game again in Scottsdale. Torri's confidence improved with each jump going 8'6" and 8'11" in the semi-finals, then new personal bests of 9'11" and 10'1" in the finals! That put her in 4th place since 3 other dogs had qualified for Splash but are definitely competing at the next level now (which is similar to Hannah qualifying at a lower division but now starting to jump at the next level). One of our favorite announcer accolades about Torri was recognizing the terrific shape she is in as an senior dog. At 9.5 yrs old, Torri was the oldest of the 76 dogs competing at the 2008 championships (average age was 4 yrs old, and Hannah was the 5th youngest).




See complete list of results from the championships.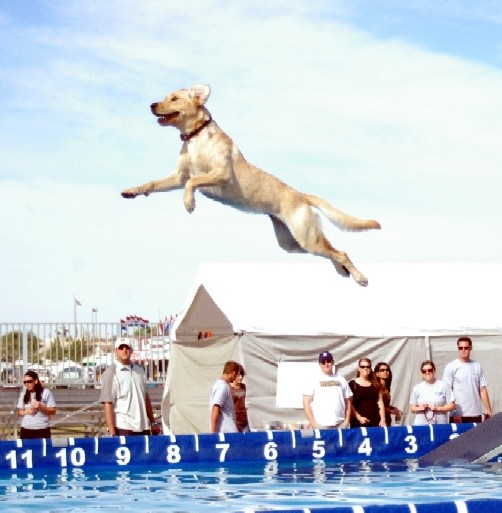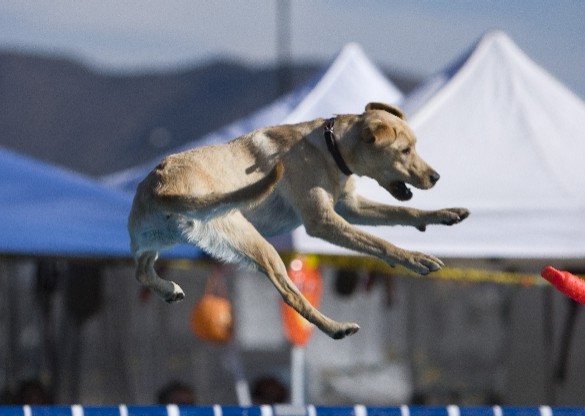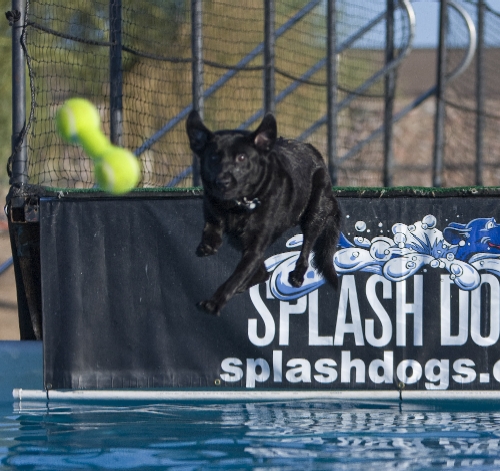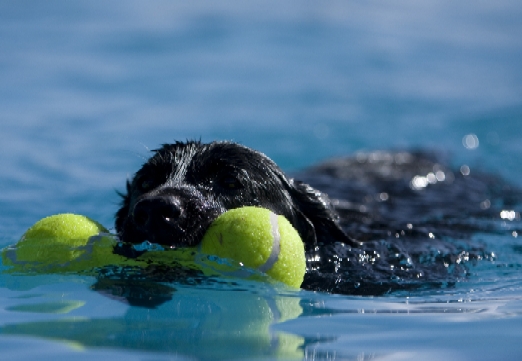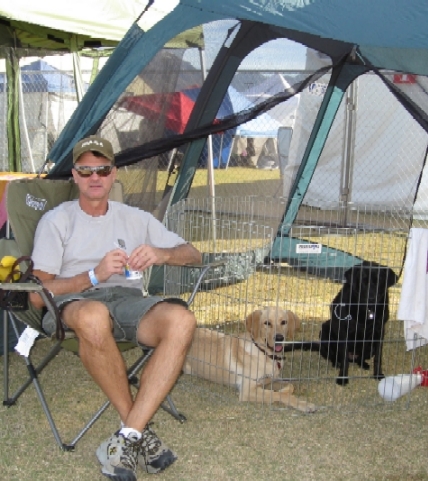 9/27-28/08 Kern County Fair, Bakersfield, CA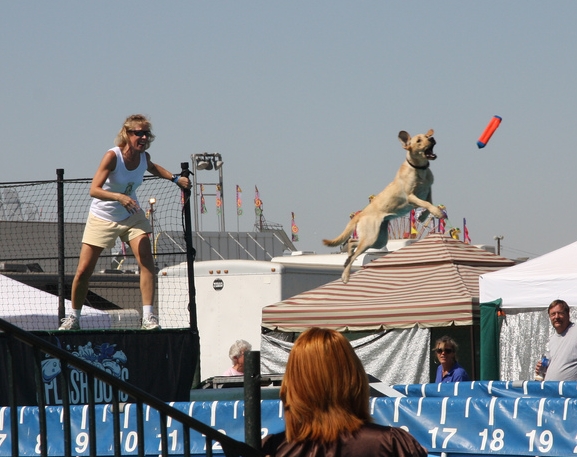 Bakersfield was quite toasty with high 90 degree weather, but the fun venue and successful competition were worth the sweat. Kern County has a traditional fair complete with high-diving antics, pig and turkey races, Budweiser Clydesdales, rock climbing walls, and more, which we enjoyed between dock diving waves. We also enjoyed getting to know more Splash Dog people who continued to make us feel very welcome to the sport and help us with suggestions for how to improve our dogs' jumps.

Hannah increased her distance by more than 2' compared to her previous best during this her 2nd competition. Her distances during the weekend steadily increased from high teens to 3 jumps hitting over 20'! We were having such fun that we decided to stay for the finals (with a bit of encouragement from our new Splash Dog friends). Hannah's best jump fortunately came at the right time during the finals with a new personal best of 21'2" which earned her 1st place in the Open Finals!

Torri had a difficult time after a slip and splash during a practice jump which hurt her confidence. We were very proud of her being willing to do standing jumps with our encouragement getting 3'-6' jumps. Troy took a turn with handling too with both girls though Cyndi likes to hog the dock after doing all the training with our Labs. Between Torri and Hannah, they brought home 3 1st places, 2 2nd places, and a 4th, 5th, and 7th.




See complete list of results from the Bakersfield.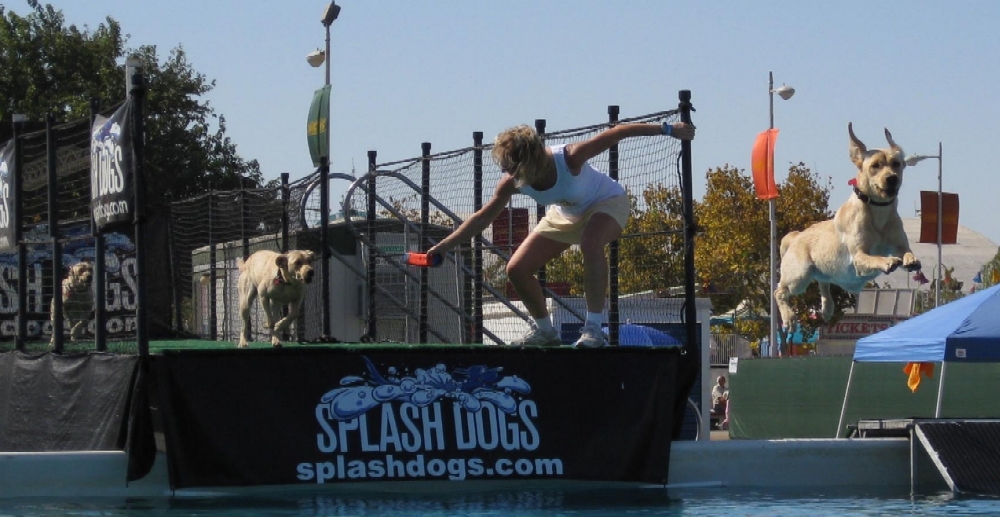 8/30/08 USDAA (agility) event, Prunedale, CA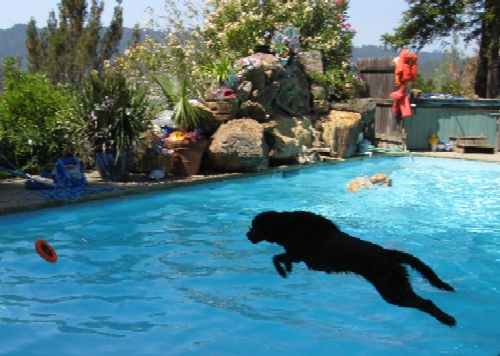 Our dock diving adventure started with a July 2008 trip to Napa (for Hannah's birthday) where we stayed at a dog-friendly B & B that allowed dogs in the pool. Torri taught Hannah to jump off the poolside to get to the toy fastest. We thought their jumping form was great and looked like the dock diving dogs shown on ESPN. When we got home, Cyndi started checking into dock diving opportunities and found SplashDogs had been established in the Bay Area for the many people on the west coast who wanted to try dock diving. The SplashDogs website had great info on this fast growing dog sport, and we found we could just show up and try a practice jump since both Torri and Hannah were already toy-motivated retrievers and happy to jump into the water.

We anticipated that our fast athletic Hannah would do well and she exceeded our expectations! Her first jumps were in the 17-19' range which gave her 2 second places in the very competitive Senior division. Her 3rd competition "wave" had shorter jumps that were our first clue that something was wrong. Hannah got increasingly uncomfortable in the tail area in the evening and we ended up taking her to emergency to relieve her pain. She apparently had sprained her tail with all the jumping in the cold conditions which is an issue that effects hunting dogs retrieving in cold water. Now we've learned about cold-tail (aka dead tail or limp tail) syndrome and so are working to prevent it with lots of warm-up/cool-downs and towel-offs.

Torri did even better than we expected as our older and more timid dog. She readily jumped after the toy and had most of her jumps in the 7-9' range which gave her 2 first places in the less competitive Splash division. Wendy was announcing the event and she described it perfectly: that in Torri's mind, she was jumping just as far as her sister did, and from the look of her wagging tail, that Torri was having just as much fun.




See complete list of results from the Prunedale.