Diamond P Dot Harrell's Hannah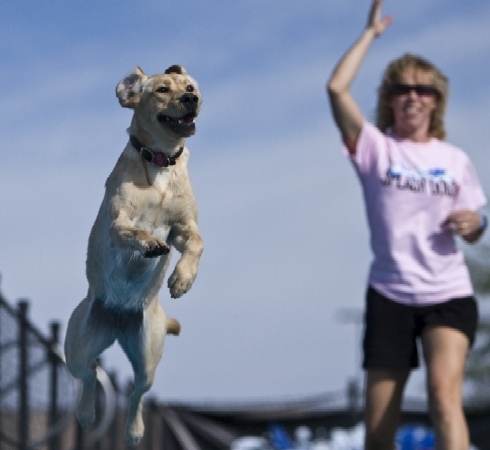 2 year-old Yellow Labrador
Personal best jump: 21' 5" (6/26/09)
Splashdog Titles: Senior Dog (9/27/08), Senior Bronze (4/18/09), Pro Dog (1/8/09), Pro Bronze (1/18/09), 1/8 Mile Frequent Flyer (1/18/09), 1/4 Mile Frequent Flyer (8/15/09)


Hannah is an energetic young Lab who lives for retrieving. She greets Troy & Cyndi in the morning with a toy in her mouth to see who's ready to start throwing for her. Hannah is their 5th Lab and their most athletic/fast/jumpy dog, so they have been looking for ways to channel all her puppy energy such as agility training and dock diving.

Ironically, Hannah was terrified of the water after falling in a pond as a young puppy. In Spring 2008, Troy & Cyndi resorted to life vests and swim lessons where Hannah discovered that water was just another fun place to retrieve toys - she hasn't wanted to leave the water since then! Hannah has now tried pools, ponds, creeks, rivers, lakes and the ocean and has pronounced them all lab-tested and approved!


Diamond P's Lean Maxxine Torri
10 year-old Black Labrador
Personal best jump: 10' 1" (11/2/08)
Splash Dog Title (9/28/08), Splash Bronze Title (4/18/09)


Torri is a very sweet senior Lab who has been retrieving objects from the water all her life, but only recently started competing in dock diving. Torri's sire & dam were also both excellent water retrievers, competing in field trials to the master hunter level. She is a retired breeding bitch from Diamond P Labs (Walnut Grove, CA). Troy & Cyndi adopted Torri a year ago and she loves her new job as a beloved family pet.

Cyndi & Torri also do therapy pet work visiting senior centers with Furry Friends. Torri loves attention and the seniors enjoy petting her and watching her perform dog tricks. One of Cyndi's favorite memories was a senior who couldn't even speak but Torri knew what to do and pushed her head under the person's hand - the elderly lady broke out in an ear-to-ear grin - who says communication needs words?!