Torri (Black Labrador)
April 22, 1999 - September 20, 2013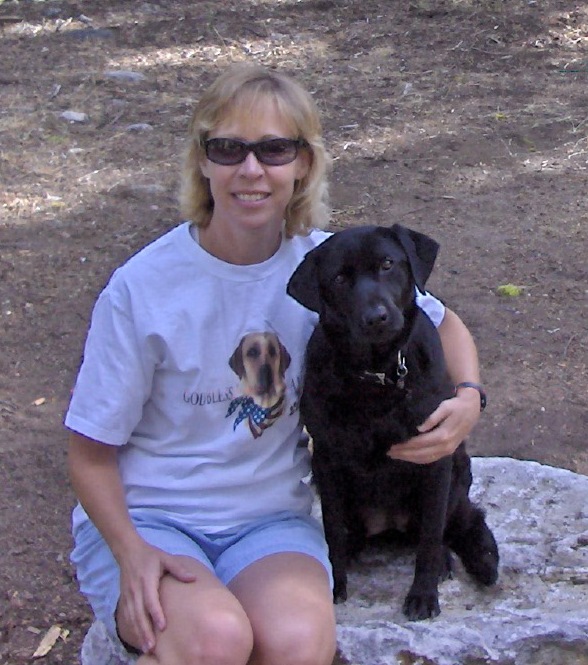 From the day we brought her home in May 2007, Torri was a "mama's girl" and my constant companion.  She was our petite Black Lab with a big heart and gentle soul, and my little black shadow following me wherever I went (yes, including to the bathroom).  We got her 3 weeks after losing Linsey when the house was unbearably quiet and my working at home was a constant reminder of the missing pitter patter of little paws.  We had found a very reputable breeder (Diamond P Labs) and were waiting for Hannah's litter to arrive and be weaned in the fall, and asked Patti if she ever loaned out her retired breeding dogs since we just couldn't wait that long but weren't quite yet ready to commit our hearts to another dog.  She knew we were an excellent Lab home so introduced us to a pretty and petite 8 yr old black Lab named Torri who exuberantly jumped up and down when she met us.  As my brother describes it, Troy and I were the only ones who thought Torri was a temporary loaner since everyone who knew us was sure that Torri had just found a home for life!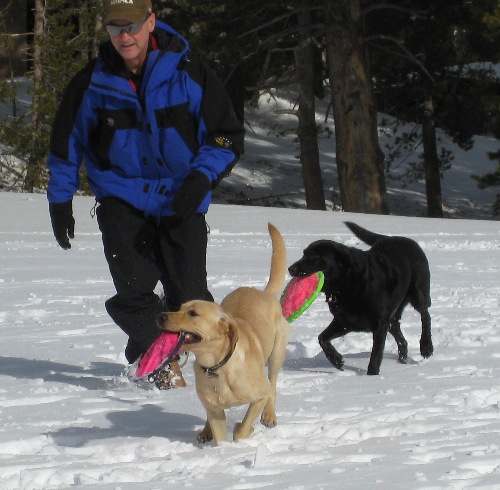 Torri had quite an adjustment after the first half of her life spent in kennels in the country and we worried when she was off her food during the transition since Labs love to eat -- she was a normal Lab chow-hound after realizing she had a new home.  The city noises and cars were scary to her at first, and she never got over her dislike of manhole covers so would walk around any metal covers in the road but otherwise made the adjustment.  One of her funniest holdovers from kennel life was how Torri would bounce up and down for food at mealtimes like dogs do in the kennels, which continued for the rest of her life (our only Lab who has done this).  We debated changing Torri's name since sounded too much like "Troy" (and she reacted whenever I yelled at/for him) but we were all use to her registered name so kept it.  Patti told us more about Torri's early years – she was the pick of the litter for breeding from 2 of Patti's master champions and was professionally trained for hunting.  We saw evidence of her training and excellent breeding in various ways like Torri not chasing small animals yet her determination to get whatever she was intended to retrieve including diving under water for it.  Torri only had 1 litter and had a difficult timing delivering so Patti hadn't bred her again (further convincing us that Patti cared more about her top-quality Labs than producing puppies!).  What assured us that Torri was meant to be ours was when we found out her birthday was the same day as Cayli's which further helped us remember our previous Labs.
It was easy to fall in love with Torr-Torr who was a precious perfect pup and so eager to please.  She only jumped on us once after the kennels and never did again after the slightest correction.  Torri was such a good dog, always well-behaved and obedient – she walked right by my side whether on leash or not. She was also a happy dog with a gently wagging tail who would start and end the day politely saying "hi" by our bedside and pushing her head beneath our hands for some petting.  She was always quiet with only a few "woof's" at appropriate times.  Torri was quite dainty often sitting with her tail tucked between her legs (perhaps another remnant from her breeding days).  She was submissive and timid especially around men, though she did decide that her daddy was a good guy.  Her shyness was particularly seen in front of the camera and we have many photos of her turning away from the too-intense gaze of the lens.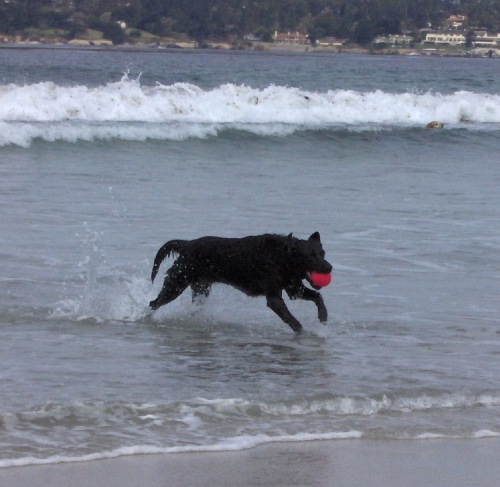 One of our first weekends with Torri was a family camping trip and we all had a wonderful time together hiking and swimming.  She was such a great traveler and willing to go anywhere with us settling in the car immediately and rarely needing bathroom breaks (of course we had to stop more frequently for the rest of us).  Her years with us took her to our Jackson ranch at least monthly, Carmel/Monterrey several times, San Francisco, Napa Valley, Shasta Lake houseboating, Sierras repeatedly for hiking/swimming/camping, Kirkwood Meadows to play in the snow, San Luis Obispo annually on the way back from grandparents in Southern California, Sacramento to visit her other grandparents, and many dock diving competition spots including Bakersfield, Orange County and the long drive to Phoenix!  When she was at home, she still loved the outdoors and found the best of both worlds in her favorite spot with my home office opened French door where she could be indoors with me and have all the sights/sounds/smells of the outdoors as well.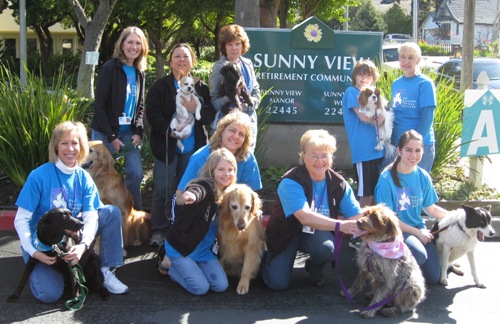 Torri was the sweetest of dogs craving attention and cuddles.  Many times each day she would come over to wherever I was sitting and sweetly ask to be pet on her velvety soft head including chin rubs. She was so gentle and looked forward to getting pats from an elderly lady we often saw on our daily walks.  That further convinced us that Torri would be a wonderful therapy pet visiting senior centers.  She was certified as a Furry Friend in 2007 and later received her AKC title for over 50 visits as a Therapy Pet before she retired at the end of 2012.  It was a pleasure to watch Torri brighten the senior citizens' days and she instinctively knew what the elderly residents needed, sometimes pushing her head under a hand that might be too weak to pet her.  Torri also was more than happy to do "vacuum duty" cleaning up all the tidbits dropped by the seniors!  She was also happy to take treats by hand and was the most gentle and trustworthy with her soft mouth even with seniors and children.  Torri learned many tricks to entertain the seniors and one of her favorite rewards was a fetch game after a well-done lesson.  She enjoyed her pet therapy work and even tolerated dressing up for Halloween and other holidays.  And she was quick to roll over to ask for a belly rub as a reward for her service!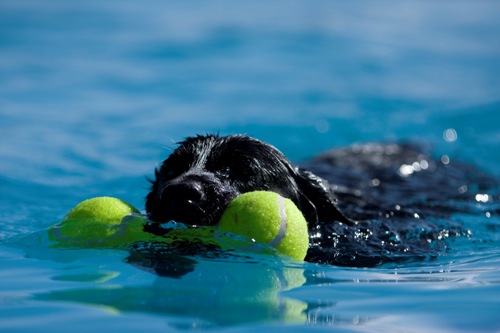 An American-style field Lab through and through, Torri absolutely loved swimming and retrieving.  Patti said Torri took to the water without hesitation.  Even during her last trip to Jackson, she eagerly walked in the water to swim. Though not obsessed with dock diving like her sister Hannah, Torri successfully racked up many ribbons in the under 10' category and achieved a personal best with a 10'1" jump.  As one Splash Dogs announcer said, Torri may not be jumping as far as Hannah, but her happy tail shows she's having just as much fun.  Torri loved fetching on land as well and was even doing a few retrieves up until her last week.  We found that rolled rings worked best with Torri who could snag them without having to bend down or jump up.  She got very clever with picking up rings that had fallen over by stepping on one side to elevate the other side to her mouth!  What a clever girl ;)  Her favorite toys were big fat fluffy ones, which were even better if they squeaked.  She would retrieve or carry one around for a while and then go to the toy box to pull another one out, and repeat until her toys were scattered everywhere.  She had a very curious nose and was very interested in checking "p-mail" on walks.  She especially enjoyed exploring the smells on our Jackson ranch and would often disappear when we arrived so she could go check if there was anything left of the deer bones from her previous visits.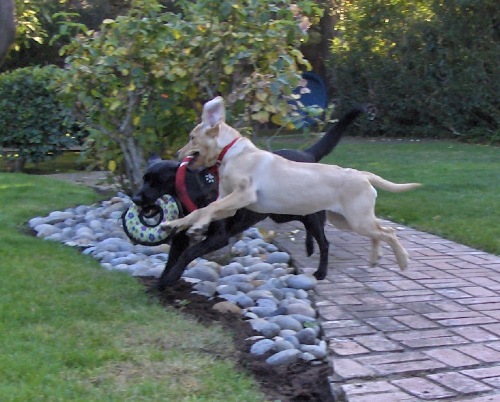 Torri and Hannah were a more separated pair in age and personality (after our last pair of Labs who were very bonded) though still clearly a pack.  Torri was so tolerant of her 8-year younger and very active sister, even after Hannah's initial puppy meeting with her was to try Torri's still enlarged teat (Torri had just recently been spayed)!  Torri was submissive to Hannah and other dogs, giving them a friendly sniff but not very interested in playing with them especially as she got older – she was much more interested in human attention.  Despite that, she readily welcomed many foster dogs into our pack and helped them become better canine citizens in order to find new families.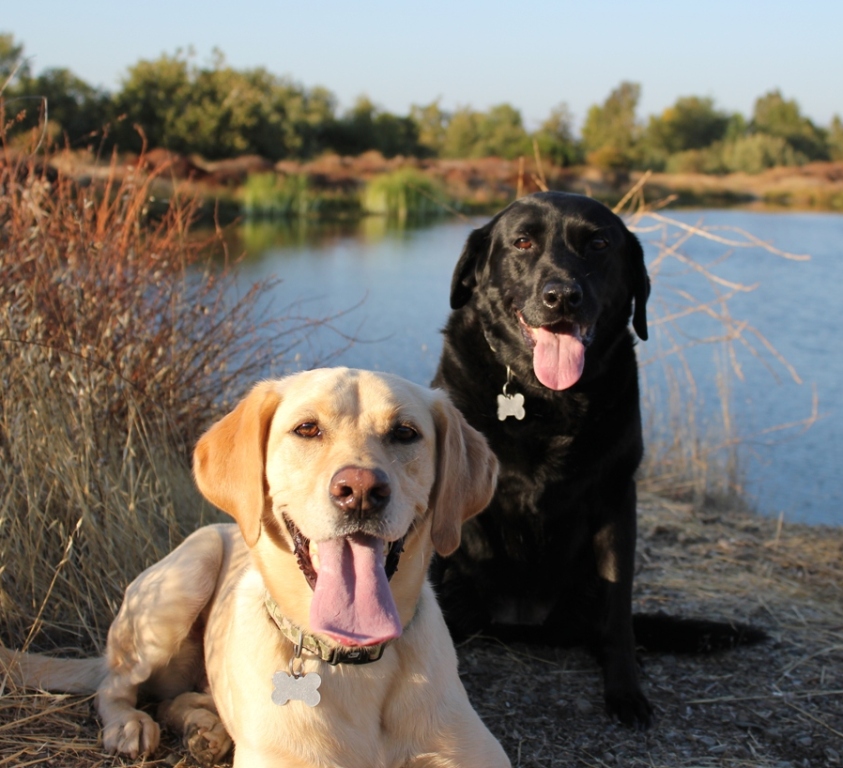 Our girl had warm brown eyes and beautiful black velvet fur with hardly any grey even in her later years.  She was our first Black Lab (previously chocolates and yellow) and she made us a lover of that Lab color too (despite it being harder to photograph). She was always lean and her petite 55 lbs size sometimes had people wondering if she was full Lab though this is the starting point for the breed standard that seems to get heavier over time. We had intentionally chosen smaller Labs after our last 2 big ones and we loved her petite size which allowed us to pick her up in her last months when she needed help getting into cars, etc. Torri had a delicate and pretty face that made her always look like a puppy.  That plus her lack of grey and playful energy made her seem much younger than her years.  I remember when Torri turned 10 and we mention it to someone on our birthday outing and they thought she was 10 MONTHS instead of 10 YEARS!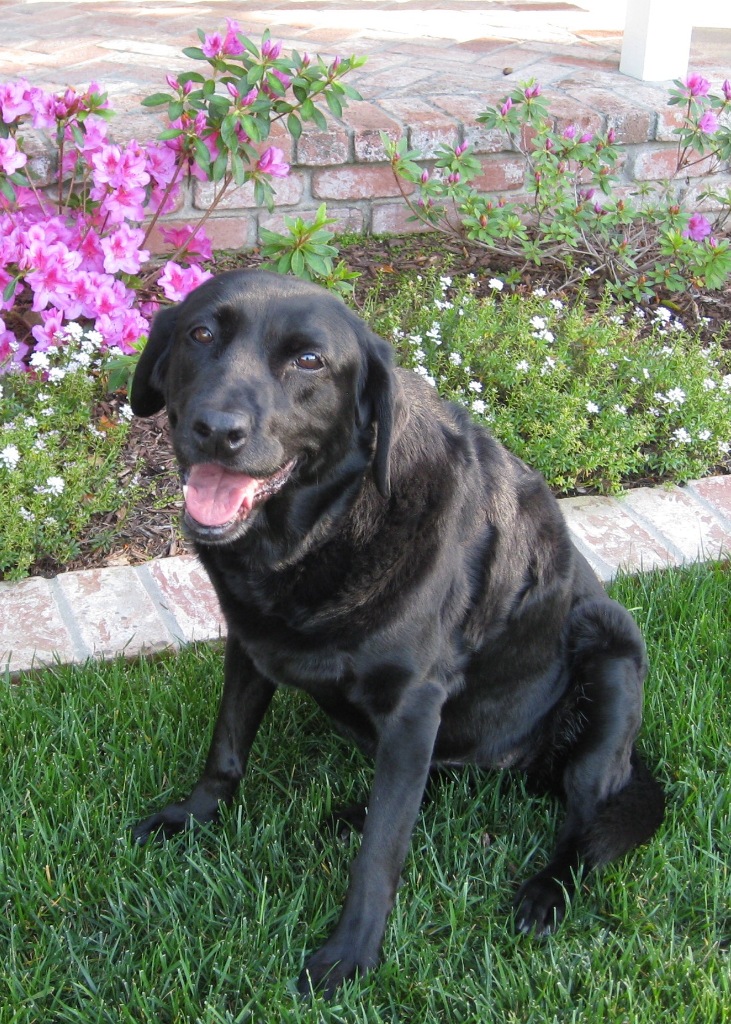 Torri was very active and healthy for the 6+ years that we were fortunate to have her in our lives.  She had a couple vet trips the first year we had her: to get an eyelid tumor removed that resulted in an ulcer (ouch!) and a puncture wound in her flank that she somehow got while fetching and needed drains.  After that, she was mostly carefree even past her 14th birthday in April 2013 making her our oldest and healthiest Lab so far.  Her eyes got senior cloudiness (no cataracts) and her hearing diminished, but her excellent physical condition again reminded us of the benefits of good breeding.  Torri was slowing down and seemed sore in the back so we weren't surprised that an x-ray in May showed spondylosis arthritis in 3 of her vertebrae.  There was also a suspicious lucent spot in the lower lumbar that was confirmed to be bone cancer 3 months later when she was further declining. So we increased her pain meds but unfortunately couldn't do much else other than to love her and get the most out of our remaining time together.  Our friends and family were wonderfully supportive knowing how we loved this sweet little Lab.  Torri was a trooper despite the bone cancer pain trusting us to help her when she struggled to stand up during her final week and one of us was always by her side. Up until the day before she died, she was still wagging her tail and asking to be cuddled. Unlike our previous Labs with different terminal illnesses, Torri still had some appetite at the end and we have a special memory of handfeeding her venison for her last meals. Torri is the 4th Lab we've loved and lost, and it's never easy saying goodbye to these beloved family members with too-short lives. We'd do it all again since it would have been so much worse to not have had this gentle and happy soul grace our lives.  We will always remember this very special girl and miss her greatly.
---