Terra (Chocolate Labrador)
January 30, 1992 - January 21, 1994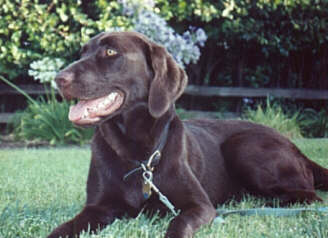 She came to grace our lives for such a short time. Everyone has something to accomplish with their lives. For some of us, it takes 80 years to complete our goals. Dogs are such loving, giving creatures that they can leave their mark in a much shorter time. Terra taught us everything she needed to so left us before she reached 2 years old. We still miss her. Here is Terra's story.

We had been married a few months and were anxious to start our plans for a family of fur children. We had both had pets growing up but this was different since the dogs would be our responsibility now. My husband teased me as I brought home stacks of books to learn about various breeds and how to raise a puppy properly. Labrador Retrievers are the most popular dogs for good reasons, and their size, temperament, care requirements, etc. fit our active lifestyle perfectly. We were biased towards chocolate since it was more unique (at the time!) and I'm an admitted chocoholic. We also knew we wanted a female (no offense to the leg lifters out there).
I began calling breeders and learned more about the breed in person. There was no question -- Labs were for us. Our house remodel was done and the backyard was puppy-proofed so we were ready for our puppy!
We first met Terra when she was 6 weeks old. The breeder knew that he was placing a very lucky puppy. The next 2 weeks passed so slowly, but the day finally arrived that we could bring her home. I was so excited! It was March 27, 1992. Of course, we sent puppy announcements to our friends and family (see our "It's a Puppy!" pages for ideas to welcome your new puppy). I left work early that Friday and mentioned to one of my co-workers that "I was going to pick-up my new baby". He was speechless for a moment thinking that we were adopting a human baby. Terra was already bringing laughter into my life.
It broke our hearts to hear Terra cry leaving her dam and litter mates. I vowed to do all I could to bring Terra joy instead of whines during her life with us. We showed Terra her new home and she did her business in the gravel area as planned. She sniffed the house out thoroughly. You should have seen her reaction to the puppy in the mirror! The first two nights we didn't get much sleep, but Terra adjusted pretty quickly. My boss understood how much this puppy meant to me so agreed to let me work at home the first week -- my "maternity leave". Terra and I made much progress on housebreaking and on chewing on toys instead of people. Would you be surprised if I said how smart she was?!
Puppy months passed quickly though there were times we could hardly wait for her to grow up. Terra completed the puppy shots and was ready to start meeting other dogs. As with all things doggie, I researched the options and decided that Sirius puppy training fit our belief in positive reinforcement. We signed up for Puppy Kindergarten and learned as much if not more than Terra did. Terra's framed diploma still hangs on our wall along with many pictures of her.
At 6 months old, Terra was scheduled for spaying. We are strong advocates for leaving breeding to professionals, and spaying/neutering pets to increase their health and quality of life. Yes, we do know non-fixed dogs who died or nearly died from uterine infections/cancer and being hit by cars when escaping to reach the in-heat bitch. None-the-less, I cried when I left her at the vet's, since this was our first night without her and I hated putting her through the ordeal. Little did I know the many vet ordeals that she would face too early in life. Terra did better than I did and she bounced right back after surgery.
Life settled into routine including our wonderful evening walks. We met friends (canines and their humans) at our local park. Terra loved car rides and went everywhere with us. We went on camping trips and Terra quickly learned to swim. Like most Labs, Terra loved water and would find the smallest amount of water in any field or creek bed.
Terra was just over a year old when we noticed her leaking a bit of urine (this turned out to be an unrelated minor problem). We took her to our vet who did a routine urine infection test. There was no infection, but the protein level was high (we were to learn a lot more about protein, creatinin and BUN levels). Another urine then blood tests were done and Terra's kidney function was definitely suspect. Our vet, Karen O'Neill, wanted to do an ultrasound. One of our dog-owning friends suggested that the vet was just trying to take our money with unnecessary tests. Fortunately, we trusted Dr. O'Neill because the early diagnosis meant early treatments that extended Terra's quality life.
The ultrasound definitively diagnosed kidney disease but left as many questions unanswered. Terra's "interstitial nephitis" was non-congenital (e.g. she didn't inherit it) but it wasn't clear what caused it. Again with all things doggie, I read everything I could find on canine kidney disease, but the information wasn't very hopeful.
It was disturbing to not know what had caused the problem, but even worse, it made treatment less clear. We decided to go ahead with the renal biopsy. Unfortunately, the biopsy only told us more of what the cause of her kidney disease wasn't than what it was. The prognosis wasn't good -- less than a year even with treatment. It was now June, 1993. The good news: Terra was still a very happy and energetic dog on the outside. All of our time together was now even more special quality time.
The primary treatment was a protein-free diet (e.g. not too tasty to dogs) which would mean less work for the failing kidneys. Over the next months I became a doggie gourmet cook trying to make Terra's meals more appealing. In her last months when her nausea made her feel like not eating, she was getting a regular diet of prime beef stews! There was nothing too good for my baby. She also took a variety of pills. We became experts at hiding the pills in bread, cheese or what have you, to avoid having to push the pills down her throat (which we knew we would have to do later).
We took Terra to specialists and U.C. Davis Vet Center with referrals from Dr. O'Neill. We considered options such as dialysis and kidney transplants and spoke to an owner who had tried that route (it's much less successful in canines).
Our friends, family, and co-workers were so supportive during all of this -- I don't know how we would have survived without them. Of course there were exceptions. I clearly remember one well-meaning co-worker who reminded me to "keep it in perspective... she's just a dog". I wanted to hit her. Absolutely ridiculous and cruel advice that I quickly discounted. The fact remained, though, that Terra wasn't able to understand the pain and lifestyle that these treatments would mean. Thus, while Terra was still acting healthy, we came to grips with reality and decided to give Terra the best quality of life we could, even if it had to be far too short.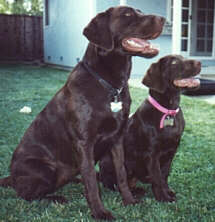 While we were looking for potential kidney donors (canines require a blood-type matched sibling), we found out that Terra had a sister from a second litter of her parents that was ready for adoption. We struggled with many emotions wanting to hold on to a part of Terra and yet refusing to consider another dog as a "replacement". Cayli made the decision for us when we brought her home for a trial visit. She captured our hearts as a unique puppy, similar to her sister in looks but with her own distinct personality. But more importantly, Terra was absolutely taken with having a puppy friend of her own to play with 24-hours a day. In hindsight, this was the absolutely right decision for us. This new bouncy puppy took our minds (including Terra's) off the illness, and only Cayli's fur could dry our tears when we lost Terra.

Dr. O'Neill was a tremendous comfort to us throughout Terra's brave fight with kidney disease. She was so gentle and caring with Terra, and so patient and understanding with us. We are so grateful that we had such a wonderful veterinarian to help us through Terra's illness. Dr. O'Neill explained things each step of the way so we knew that Terra would feel pretty good and then go downhill quickly. Dogs are so adaptable and Terra didn't even seem effected by the nausea we knew was there. She had been steadily losing weight but started feeling worse around the holidays. We learned how to administer subcutaneous fluids to help re-hydrate her, and we tried a blood transfusion to give her some clean blood since the kidneys weren't doing it.
It wasn't hard to tell when the steep downhill hit. Terra clearly told us it was time on a Sunday in mid-January. As the week progressed, she refused food and finally water. We scheduled the appointment with our vet for the morning of Friday, January 21, 1994 -- just 9 days before her second birthday. We spent a final evening together on Terra's favorite place -- her people's bed. Cayli cuddled close to Terra and licked her ears. Cayli also knew the time had come. None of us slept well but the morning came too quickly anyway. Terra was too weak to walk outside on her own so we carried her out the final time to relieve herself.
We had asked Dr. O'Neill if she would come to our house when it was time to end Terra's suffering. She looked at Terra and agreed that this was the end. She had told us how euthanasia worked but answered our final questions. Despite having over 6 months to prepare for this moment, it was the hardest thing in the world to say good-bye to our little girl. As hard as it was watching her go, it was always a given for us that the last faces Terra would see would be her mom and dad who loved her so dearly.
Terra slipped peacefully out of her suffering. We cried a long time and so did our vet who had gotten to know her brave and sweet patient during the year. We had decided to bury Terra and had a small ceremony. There were many thoughtful people who sent cards and flowers, and it helped to know that others understood that we hadn't just lost a dog, we had lost an important part of our family.
Many years have passed and the pain has dimmed but Terra's memory lives on. She taught us so much about being good pack leaders, and has made us appreciate every minute of our other dogs' lives.
I hope sharing our experience helps if you have also lost a beloved pet, have an ill one, or are wondering (like we did) whether you could be strong enough to mercifully end a dear friend's pain. We appreciate the many messages people have sent us about your own wonderful dogs, and how reading Terra's story has effected you. We don't always have time to respond so have compiled some of the FAQs from people who are fighting kidney disease with their beloved dogs also.
Thanks for remembering Terra with us.
---